Miley Cyrus conquered the Hollywood Sign's summit with Gucci's creative guru Sabato De Sarno and photographer Tyler Mitchell. In an audacious move, she rocked a pair of sizzling burgundy leather Gucci shorts, turning the iconic sign into her own glamorous workout stage.
From her teen idol days in Hannah Montana to a chart-topping singing sensation, the 'Bangerz' star has woven a remarkable career tapestry. With numerous awards adorning her albums and hits, she recently clinched her first Grammy nomination in over a decade on the heels of the Recording Academy's 2024 Grammy nominations announcement.
The 'Used to Be Young' singer, bursting with gratitude, swiftly took to X (formerly Twitter) to share her heartfelt message.
Miley Cyrus Rocks Tiny Leather Shorts For Hike
In the photo dump captioned: "It was us in LA. We danced. We laughed. We loved each other," Miley sported teeny tiny burgundy leather shorts. The songstress elevated her style game by cinching them with a coordinating Gucci belt. A laid-back gray collared t-shirt and oversized gold hoop earrings completed the ensemble.
Now, the burning question lingers: what footwear did she choose for this leather-clad hike? Alas, the photo leaves us hanging, cutting off just above her thighs, leaving us in suspense about the final piece of this fashion puzzle.
Many fans were left excited over the adventurous photos of the 'Wrecking Ball' hitmaker. One fan asked, "girl how you next to the sign?" Referring to the second slideshow of the post.
Another user commented the lyrics to her iconic hit, 'Party In The USA': "Look to my right, and I see the Hollywood sign!! THIS IS ALL SO CRAZY."
The 125 Best New Beauty Launches Of 2023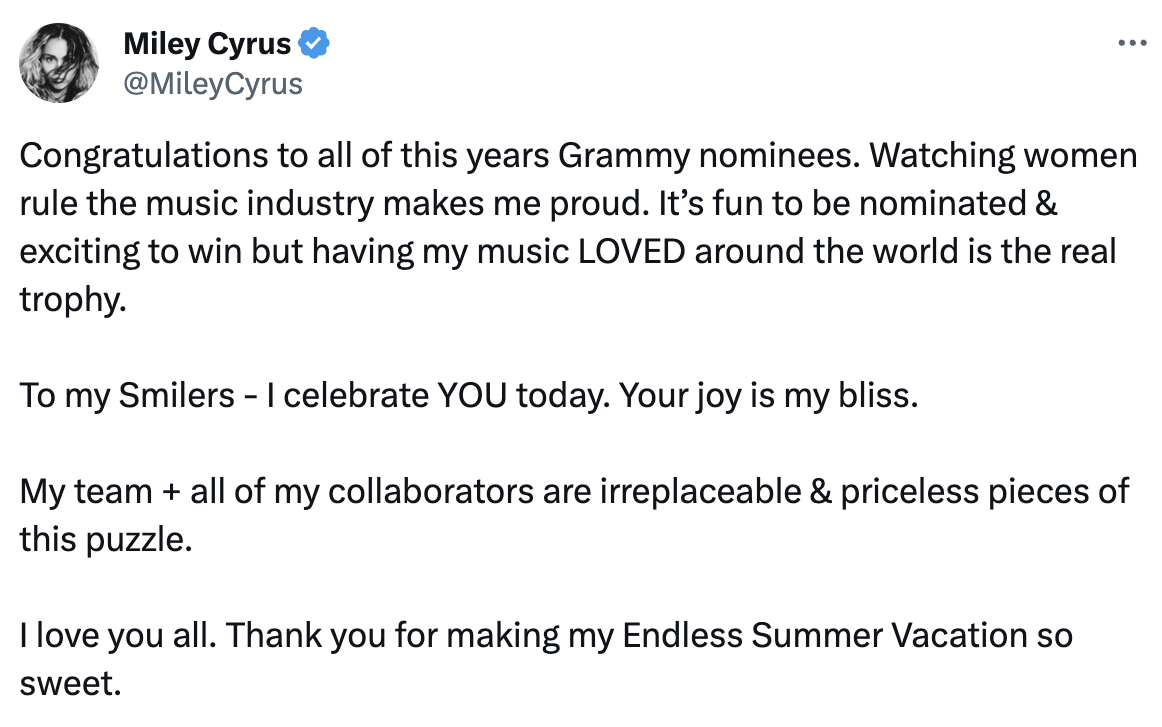 Via X @mileycyrus
Miley Cyrus Grabs Grammy Nominations
Miley Cyrus is hitting a major career high with her latest Grammy nominations, achieving a milestone as she secures her first nods in the prestigious Big 4 General Field categories. Not only is 'Flowers' in the running for Record of the Year, but it's also vying for the coveted title of Song of the Year.
Adding to the excitement, Miley's 2023 album, 'Endless Summer Vacation,' has earned its spot in the Album of the Year category. It's a Grammy journey that's shaping up to be nothing short of legendary for the dynamic artist.
To express her gratitude, the 'See You Again' icon wrote on her X (formerly known as Twitter): "It's fun to be nominated & exciting to win but having my music be LOVED around the world is the real trophy. To my Smilers – I celebrate YOU today. Your joy is my bliss."